What are the best wearable technology for elderly care this 2022?
Technology is constantly changing the way we live and consume information every day — from our mobile devices to social media. Wearable technology, though, takes this trend to the next level. More specifically, seniors are benefitting from the wearable tech that allows them to live more connected, independent lives.
Seniors are comfortable with technology and its benefits. But technology, specifically wearable technology, can do so much more for seniors than just track heart rate or daily steps. Let's take a look at how wearables can help seniors live a more independent, healthy lifestyle.
Connected Help
Wearable technology allows seniors to receive assistance with the touch of a button — providing immediate access to daily care or emergency assistance. Additionally, it keeps them connected 24 hours a day, seven days a week, giving peace of mind to caregivers and loved ones.
Connecting through cellular technology also enables nationwide coverage, ensuring help is available to them, wherever they go. An elder can gain confidence again when going to the grocery store, for example, or can enjoy an evening walk without the fear of potentially falling with no help available.
Personalised Health
Wearable technology can focus on a senior's daily habits to track typical behaviors, too. Analytics has the ability to nudge seniors when to get up and move if they've been sitting longer than usual, allowing them to stay on track with their daily healthy habits. In addition, notifications can help with medication and appointment reminders, or follow-ups from caregivers to support care plan success.
Sense of independence
Currently, around one million people live in some type of senior living community, and that number is expected to double by the year 2030. With that being said, nearly 90 percent of adults would prefer to age at home. Wearable technology and the features mentioned above allow seniors to extend their independence in the comfort of their own home.
If there is a need for a senior living community, wearables play the same role in allowing seniors to manage their own time and needs on a daily basis. Wearable technology is paving the way to improve seniors daily life. With it's extended features and easy-to-use access, seniors will begin living fuller lives more independently wherever they go.
Selecting the Right Wearable Technology for Elderly Care
When seniors, and those who care for them, look for wearable devices to assist with the activities of daily living, they want a device with a spectrum of functions, that can be set to their specific needs,
Below are the best wearable devices of 2022:
1. CPR Guardian Personal Alarm Watch 
CPR Guardian learn more here: www.cprguardian.com
The CPR Guardian is an easy-to-use standalone mobile phone watch with an integrated SIM card. It's a personal alarm that contacts family. They can view the location and well-being of the wearer remotely by using the Guardian mobile APP for Android and iOS. Carers can call the fall detection watch just like a mobile phone.
Here are some of its features:
Safety Zones are a virtual radius around a physical area, such as a house or a park. Carers will receive app notifications whenever the wearer enters or exits a Geo-Zone.

Using the "CPR monitoring" smartphone application, family members or caregivers may follow the whereabouts of the user at any time.

The SOS button enables the user to quickly call five preset contacts through loudspeakers using the integrated cell phone.

CPR Guardian monitors and transmits the wearer's heart rate every 10 minutes to the CPR Monitoring APP.

The personal alarm watch may be worn in the shower when falling is more likely to occur.

Guardian has a maximum working duration of 48 hours and notifies both the wearer and APP users when the battery is low.

The inbuilt CPR Chameleon SIM card offers unrivalled connection across the United Kingdom and the European Union by connecting to all major mobile networks.

Using the CPR Guardian mobile app for Android and Apple / iOS, family and caregivers may remotely monitor the location and health of the user.
The CPR Guardian personal alarm watch and App are made in the UK by CPR Global Tech. The watch is easy to use but, if you need guidance or advice with set-up, the company has a state-of-the-art technical support centre.
2. Fitbit Charge 3
Voted the 2018 Fitness Tracker of the Year, the Fitbit Charge 3 tracks way more than steps. It features automatic sleep tracking so seniors can monitor their sleep patterns and learn how to get better rest, which is important to healthy aging.
The Fitbit Charge 3 also sports a large, easy-to-read backlit display, long battery life and connectivity to everyday apps seniors will love, including calendar and weather. Learn more about the Fitbit Charge 3.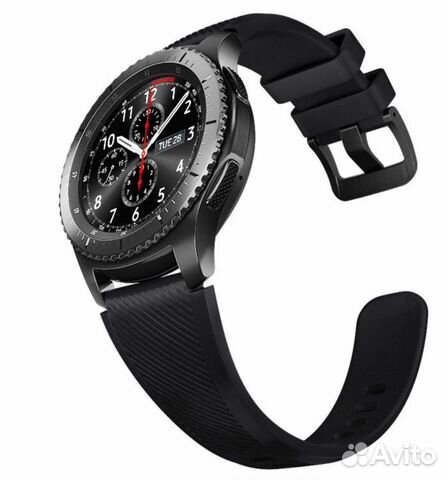 3. Samsung Gear S3
Timeless on the outside, revolutionary on the inside, the Samsung Gear S3 looks and feels like a traditional watch but does so much more to help seniors lead healthier, happier lives.
One of the best features we love about the Samsung Gear S3 is the ability to notify emergency contacts. Three presses on the home button and the wearers location will be sent to predetermined people who will then be able to track whereabouts in real time. Learn more about the Samsung Gear S3.
4. Apple Watch 4
The Apple Watch 4 is a momentous achievement for wearable devices for seniors. For starters, the ECG app can generate an ECG similar to a single-lead electrocardiogram, providing critical data for doctors, caregivers and wearers alike.
The resulting ECG waveform is automatically stored in the Health app on the iPhone, so wearers can easily share the results with caregivers and health providers to have a better-informed conversation about their health. The Apple Watch 4 also features advanced fall detection. If the watch detects a fall and the wearer is immobile, it will automatically call emergency services and send a message to emergency contacts. Learn more about the Apple Watch 4.
5. Reemo Health Smartwatch
"Enjoy your independence as much as possible, for as long as possible." That's the mission behind the Reemo Health Smartwatch. Specifically designed for senior living, the Reemo Health Smartwatch makes it easy to manage health data and even share information with family members, caregivers and other
healthcare providers. The Reemo Health Smartwatch also features live 24/7 concierge help, giving wearers access to a live operator who can provide product support or emergency services. Learn more about the Reemo Health Smartwatch.
6. Freedom Guardian
The Freedom Guardian wearable medical alert watch incorporates features that provide day-to-day support for older users, their loved ones and caregivers. Advanced location tracking means help can be sent to the wearer's exact location, and automatic alerts help manage day-to-day tasks, so seniors don't forget to take medication or miss a doctor's appointment.
The Freedom Guardian also features oversized icons and a large, high-res touchscreen for seniors with poor eyesight. Learn more about the Freedom Guardian.
Conclusion
The best personal alarms for the elderly allow older relatives to continue living securely and independently in their own homes. These will reassure family members that help can be sought immediately in an emergency.
Please do not hesitate to contact us if you need help in selecting the best personal alarms for the elderly.